When hearing about markets, most people will imagine an air-conditioned supermarket. Some people may think of weekend markets and flea markets. The most famous weekend market in Thailand is Chatuchak. Yet, another type of market that should be mentioned about is floating market where you can shop and learn about ways of life of locals who live along the banks at the same time.
FLOATING MARKETS IN THE PAST
In olden time most communities of Thailand were formed at the sides of rivers. Many criss-crossing rivers and canals served as means of transportation. Such ways of life of the riverside communities, especially in the Chao Phraya River Basin brought to the rise of a number of floating markets.



Floating markets had become a token of the communities in the central plain of Thailand for centuries. This type of market gained peak popularity in the Ayutthaya Period (1350-1767), thanks to the adjoining canals which suited for trading centres.
Early in the Rattanakosin Period (1782-1868) this kind of market was still lively. Nevertheless, soon after more and more road and rail networks were constructed and people preferred street transportation to that by water, so some floating markets were forced to move onto the ground, some were renovated and some were closed down.
FLOATING MARKETS IN OUR TIME
Given that many floating markets bear stories of people's lives and possess matchless charisma that we Thais would be unhappy to lose, many such markets have been revived and brought into existence in order to allow people of the latest generations and overseas tourists to take in the genuine impression of the riverside shopping.
TODAY'S FLOATING MARKETS
Floating Market at Talingchan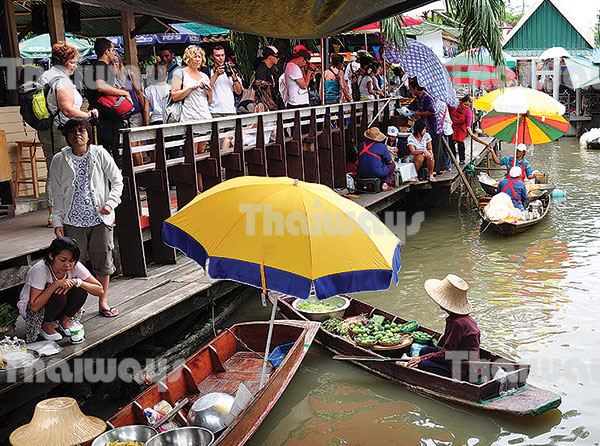 Situated in front of the Talingchan District Office in the west of Bangkok, it is open on weekends from 08.00 to 17.00 hrs. For those stay in Bangkok, this is the nearest floating market where you can observe the locals' ways of life.
Products sold here are fruits and vegetables fresh from nearby gardens, several kinds of plants, edible stuff like traditional desserts and OTOP goods.
You should seek for the "boat noodles" which is a renowned Thai bowl with superb flavours. And what shouldn't be missed is a long-tail boat trip along the canals. The boats are presented there from 08.30 to 16.00 hrs.

Floating Market at Damnoen Saduak
The best time to visit the market is the early morning, as early as possible; to avoid great throngs of tourists and before the produce is sold out. Canal cruising around the serene neighborhood is also offered. The market is open everyday from around 06.30 to 11.00 hrs.
Click on the programmes to make a reservation.
Floating Market at Amphawa
Amphawa Floating Market is an evening floating market operated on Friday, Saturday and Sunday from 16.00 to around 21.00 hrs. It is in Amphawa County, Samut Songkhram Province (72 km from Bangkok). The market is near Wat Amphawan Chetiyaram.
In the Amphawa Canal, vendors row their boats laden with foods such as boat noodles, phat thai, traditional-style coffee and Thai desserts. On land, food stalls also filled the area.
Another popular activity in Amphawa is to take a boat and watch the beautiful flickering fireflies at night, especially the waxing-moon nights.
Floating Market at Bang Phli
Although the 150-year-old Bang Phli Market of Samut Prakan (29 km from Bangkok) doesn't have any paddle boats selling fresh farm produce, its wooden sidewalk is laid along both sides of the Samrong Canal where shophouses are located. The market is open on Saturday and Sunday from early morning to noon and goods sold here include decorating accessories, foods, snacks and traditional toys.
Though this is not a proper floating market, early morning scenes of Buddhist monks paddling their boats to collect alms add to the genuine local residents' routine.
Floating Market at Bang Namphueng
Bang Namphueng is another famous floating market in Samut Prakan. It opens on weekends from early morning to evening. Visitors should try ma-ho, a kind of ancient Thai desserts, and many other local Thai delicacies. Massage services are being offered at the market for those whose muscle ache. At night, take on a boat to go firefly watching, hundreds of shimmering fireflies living in the area creates such an impressive scene.
Banmai Market
Even though there are no boats floating to sell things, Banmai Market in Chachoengsao (82 km from Bangkok) attracts visitors with its ancient 100-year-old setting of market on the river bank. Banmai Market has been served as a filming location for several popular Thai films and dramas.
Recommended products are such as coconut milk, dim sum, phalo duck and Chinese chive dumplings. The market runs on Saturday and Sunday from around 8 o'clock in the morning to evening.
Floating Market at Wat Lamphaya
Situated at Wat Lamphaya, Bang Len County, Nakhon Pathom Province (56 km from Bangkok), this floating market reflects the life of the residents of the Tha Chin riverside. It highlights several delectable foods that the vendors bring in their boats and sell at reasonable prices. Moreover, juicy seasonal fruits are what you are recommended to purchase.
Traditional Thai desserts are also famous here. Tourists can decide on hiring a boat to enjoy the scenery of the Nakhon Chaisi River. The market is open on weekends and public holidays from 08.00 to 16.00 hrs.
Floating Market at Don Wai
This is another floating market of Nakhon Pathom established in the reign of King Rama VI (reigning 1910-1925). There are no boats floating in the river but the sellers set up their shops on land near Wat Don Wai on the river bank of the Tha Chin River in Samphran County.
Tourists can have a good time buying a lot of scrumptious foods and fresh fruits and having a delightful meal with families. Of course, there is a cruise service to let visitors have a close look at the riverside lifestyle.
All above mentioned places are just some examples of floating markets in Thailand. Other remarkable floating markets are such as Bang Khu Wiang Floating Market in Nonthaburi and Ban Phaeo Floating Market in Samut Sakhon. In conclusion, floating markets are attractions with distinctive magnetism because they are not only where you can shop but are also where you will be impressed with the riverside scenery and experience the life by the river. This weekend, why not go to a floating market? You are going to love it. And who knows you may want to go there again and again.
WHAT TO BUY AT A FLOATING MARKET
At a floating market, whether there are boats floating to sell things or not, you will find nearly the similar items available at a common supermarket. But shopping at a floating market allows you to have a chance to see an ordinary atmosphere of the daily life of the natives and enjoy bargaining. Things that become signs of a floating market are "boat noodles" and ancient-style coffee. Home grown fruits and vegetables are on sale. A great selection of Thai specialties range from rice and curries, papaya salad, roasted chicken, chilli paste to all kinds of typical Thai desserts. Plant collectors will also enjoy picking up and buying from an assortment of blooming plants as well.