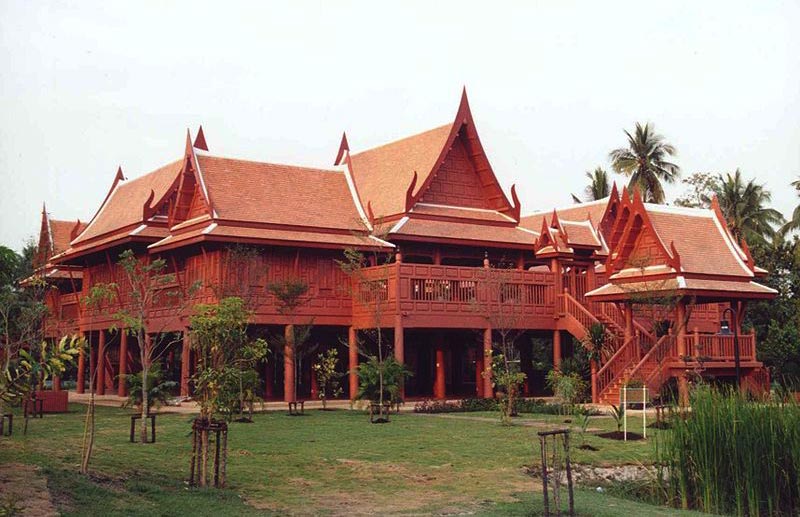 Photo : th.wikipedia.org/wiki/อุทยานพระบรมราชานุสรณ์_พระบาทสมเด็จพระพุทธเลิศหล้านภาลัย
Thai name อุทยานพระบรมราชานุสรณ์ สมเด็จพระพุทธเลิศหล้านภาลัย
King Rama II Memorial Park was established on 4.4 acres of land to commemorate King Rama II's great patronage of Thai arts and culture. The park area is significant in that it was the birthplace of the King. Interesting features of the park are four Thai style buildings exhibiting art objects in the early Rattanakosin period and expressing ways of life of the Thais who lived during the reign of the King.
Other attractions are "Ho Klang" (main hall) housing the King's statue and ancient artefacts, "Ho Non Chai" (men dorm) and "Ho Non Ying" (women dorm) depicting lifestyle of men and women living in that era, "Chan Ruen" (the corridor of the middle class' Thai style house) arranging in the ancient style with kitchen and bathroom.
In addition, there are an outdoor theatre, botanical garden with various species of flowers mentioned in Thai literatures and souvenir shops selling local products and fruits at the parking and riverside areas.
Information : Tel. 0 3475 1367
Open : Daily, 09.00-18.00 hrs.
Location : Amphawa County, Samut Songkhram Province
For taxi : อุทยาน ร.2 (ติดกับวัดอัมพวันเจติยาราม) อ.อัมพวา จ. สมุทรสงคราม