Thai name สะพานข้ามแม่น้ำแคว
If you are looking to maximize Bangkok sightseeing to nearby provinces, many tour operators would reckon a one-day trip to the world's infamous Death Railway, the tragic Thailand-Burma rail route that claimed the lives of thousands of Allied Prisoners of War (POWs) as well as even greater numbers of civilians forced to work on the project. The 415-km long track traverses steep hills and deep valleys. Part of it is known as the Bridge over the River Kwai.
Though, partly destroyed from hard bombing during the Second World War, the black iron bridge crossing the River Kwai was rebuilt and it is now a popular photogenic site. The notorious railway was built by the Japanese Army in 1942 during WWII as a route of supply extending 415 km from Nong Pladuk of Thailand to Thanbyuzayat of Burma (former name of Myanmar). To rush the work to an early completion in rugged mountains and deep jungles of Kanchanaburi, a total of 61,700 allied POWs (mainly Australians, Dutch and British) and 270,000 Asian forced labourers were sent to work on the project. They had to work in hot and damp weather conditions ten hours a day seven days a week with little to eat. Epidemics of malaria and cholera were rampant among them, and there was not enough medicine to go round. Under such extremely harsh conditions, almost half of the men had perished when the construction of the railway and the bridge was rushed to finish in 13 months. However, this railway was made use of by the Japanese for only a few months because they failed to turn back the overwhelming waves of counteroffensive launched by the allied powers. After the war ended, the dead were reburied in Kanchanaburi War Cemetery (Don Rak) and Chong Kai War Cemetery.
Today passengers can still take a train trip along this scenic, historic route. The Death Railway tour packages usually include Kanchanaburi War Cemetery, JEATH War Museum and the train trip to witness the remains of brutal war. The grim past of these places attract large numbers of visitors; the majority are from the Commonwealth countries, the Netherlands and Japan. The province and the State Railway of Thailand also jointly hold the annual festival "The River Kwai Bridge Week" toward the end of November until the beginning of December to commemorate the tragic history of the railway. The fair features exhibitions, light and sound shows, folk performances and many other activities. Interested in a one-day enjoyable trip to the Death Railway and Damnoen Saduak Floating Market, please check the tour programmes below for more info.
Location : Muang County, Kanchanaburi Province (128 km west of Bangkok)
Duration of Visit : One day trip
Accessibility : Recommended to contact tour agents
Thai Name : สะพานข้ามแม่น้ำแคว อ.เมือง กาญจนบุรี
Related Articles :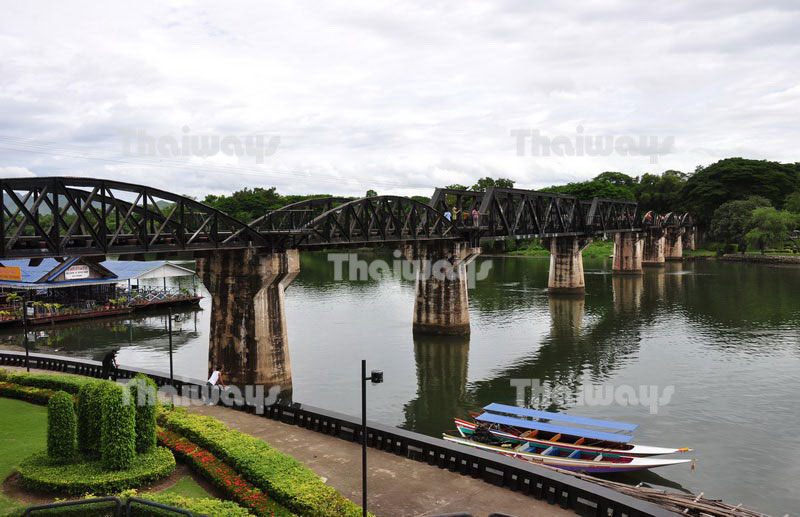 Bangkok tour + accommodation package code P-12
Grand Palace & Temple of the Emerald Buddha, Vimanmek Mansion, a long-tail boat trip to Damnoen Saduak Floating Market, Coconut Sugar Farm, Royal Thai Handicraft Centre, Rose Garden Riverside (Thai Village Show), Death Railway
Duration : 3D2N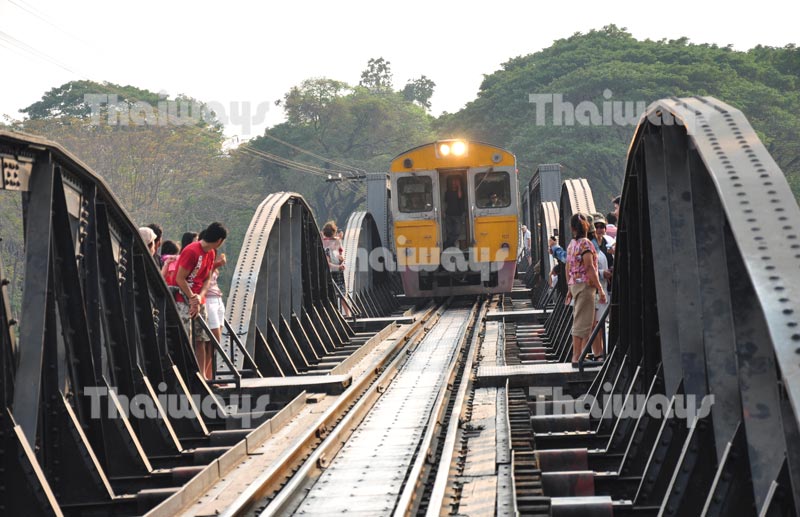 Around Bangkok tour + accommodation package code P-18
Damnoen Saduak Floating Market, River Kwai Bridge (Death Railway), a long-tail boat trip to resort, dinner with Mon dance show, Lawa Cave, Hellfire Pass Memorial Museum, Kanchanaburi War Cemetery and JEATH War Museum
Duration : 3D2N